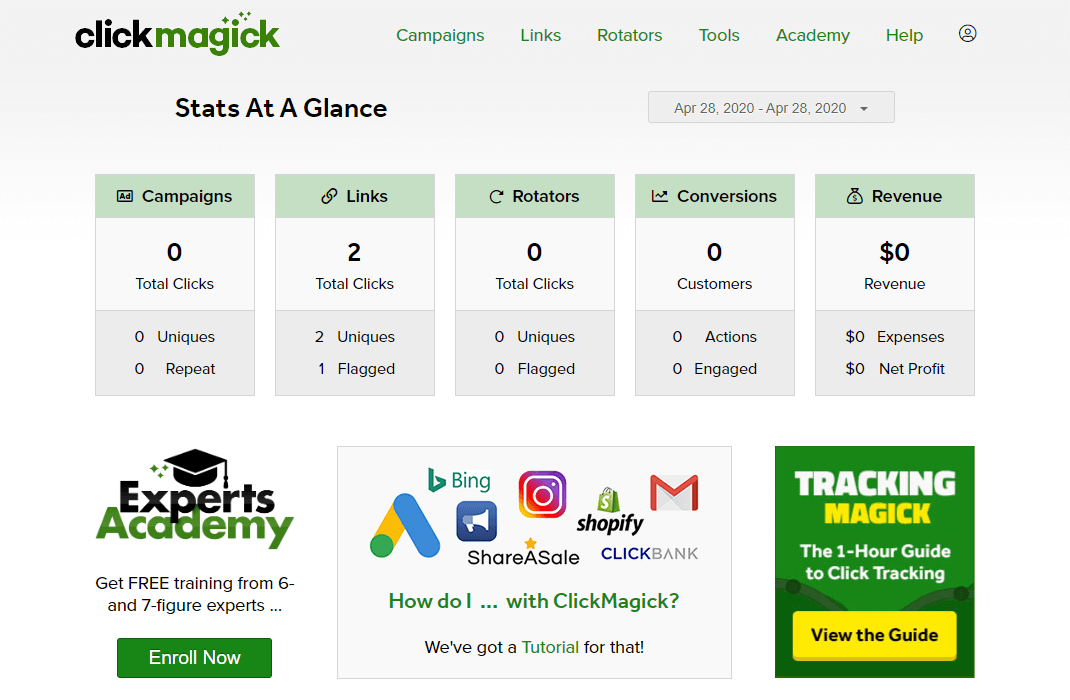 ClickMagick Review – Is This The Best Link Tracking Service?
Today, we'd be reviewing one of the most in-demand link tracking services called ClickMagick, we'd cover it all in our detailed review from creating a tracking link, taking care of the basic and the more advanced settings, this is all you need to know.
What Is ClickMagick?
Clickmagick is one of the best link tracking services/software available today, if you're into marketing, you'd know how important it is to 'know your numbers' and click magick does just that, helps you in tracking every single bit (your tracking links, your marketing funnels, etc) of your marketing campaigns.
We've been using clickmagick for little over two years now and we can say with confidence it's one of the best investments you can make to track your marketing efforts – all in one place.
If you're like me and prefer paid advertising (Google AdWords, Bing PPC, Facebook ads, banner ads etc) over free traffic sources (like YouTube), chances are you'd want to maximize your return on your investment and cut out the bad campaigns and scale up the good ones and get a decent ROI. We prefer paid advertising because it's easier to scale and we like the 'fail fast' approach as you'd immediately know what you need to optimize and can get back on it after making some improvements. Tracking all your marketing is vital and without you knowing your numbers, it can become a mess and the worst part is – you may lose money if you don't know how your campaigns are performing (at any stage).
If you have a marketing sales funnel in place, you can track it all – conversions from your funnel's front-end (your lead capture/opt-in page as some call it), to your thank-you page (also known as the bridge page), from where you'd share your lead magnet or send your audience to a webinar signup page or an offer, and can track engagement throughout your funnel, which is very helpful so you'd know what part of your funnel is doing well and what part isn't. Marketing is all about optimizing!
Creating your First Tracking Link
Creating links with click magic won't take you more than a few minutes. After you're logged in, click on the Links tab and Click on Create New Link.
You'd enter a link name, link ID (if you don't enter link ID, clickmagick would generate one for you automatically), and your primary URL, and just click on create, that's it, creating your first tracking link hardly took a minute.
The advanced settings are for more advanced users and most of the time, you won't need most of those, some of the more advanced settings you may need are geotargeting (with which you can include or exclude from opening your primary URL) and backup URL for all the visitors which are not from the 'included' country and will serve as a backup URL.
In the 'bad' clicks tab, you can choose to block all the supposedly useless clicks from bots, server and search engine spiders. Blank referrers option can be handy if you want to blank the referrer so in the next step, the origin of the click won't be shared. It can be helpful at times if you want to protect your identity like the URL of your landing page.
ClickMagick Review & Core Features
Clickmagick keeps adding features to its arsenal and that's one reason it's become the go-to tool of numerous marketers. There's a reason it's considered one of the best link tracking tools today.
Some of the key features Clickmagick boasts of are –
Link Cloaking
24/7 Link Up-time Monitoring
Click Fraud Monitoring and Traffic Quality Analysis
Automatic Bot Filtering
Custom Tracking Domains (You can add unlimited)
Advanced Geotargeting & Mobile Optimization
A/B Split Testing with Automated Winner Page Alerts
Multi-Mode Link Rotators
Effortless Conversion Tracking
Add Four Types Of Pop Ups To Any Link
Dynamic Affiliate Links
Add Content & Notification Bars To Any Link
Add A Countdown Timer To Any Link Or Page (Scarcity Element Can Do Wonders)
Add Retargeting Pixels To Any Link
Advanced Postback URL Tracking
Dynamic Ad Network Token & Sub-ID Passing
Facebook Sharing – Custom Title, Description & Image
True Real-Time Stats
Lightning-Fast Link Redirects
Compatible with Google Analytics
Easy-To-Navigate Detailed In-Depth Stats
Public Stats Sharing
Import & Export Your Data & Stats
New Features Monthly Based On User Feedback
US-Based Support Team
Growing Tutorial & Training Video Library
There is not much which you can't do with clickmagick, their introductory training videos are also short and sweet and require little to no technical background.
Our favorite part is their support, we would usually hear back from them within 24 hours, when you're serious about marketing, you'd expect quality support and clickmagick never falls short in that department. Top-notch customer service is one of our main priorities when we invest in marketing tools.
ClickMagick Pricing
Their flexible pricing plans are suitable for everyone, from someone just getting started with marketing to a veteran marketer. Simply select a package which best suits your requirements. You can also upgrade and downgrade anytime.
The best part is – they allow you to explore all their features for free before you hop on, take clickmagick out for a spin, sign up for a FREE 14-day trial and get a good feel of it.
'Second-to-none' features, exceptional customer support, and affordability makes clickmagick one of our go-to marketing tools, if there's one marketing tool your business truly needs, it's definitely clickmagick.
It's really about the mindset, the FREE mindset only takes you far, free services are hardly reliable and limited in terms of features. Paid tools save you time, which is your biggest asset and money in the long run.
Final Thoughts & Conclusion
Taking into consideration the features it boasts (of which we use most of them), great support team, and the continuous updates they add to the system on a regular basis, there are not many tools ahead of clickmagick when it comes down to tracking your marketing efforts.
On top, they are offering a 14 Day Trial during which you can explore clickmagick at your own pace, you can get started with the platform for free.